Joe Le Taxi
Joe Le Taxi play a mix of lively, raw Zydeco dance music, authentic Creole blues, sleazy shuffles and old-school Cajun waltzes and have packed venues from Sidmouth to Shetland, and right across Europe.
Five piece band with accordion, guitar, scrub-board, bass and drums, Joe Le Taxi are always ready to get the dance halls jumping!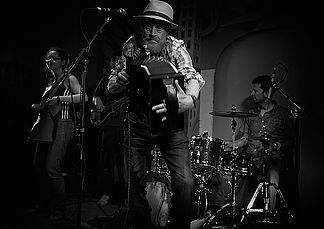 BAND WEBSITE: http://www.joeletaxi.net
To book the band contact Rees (details at foot of page).